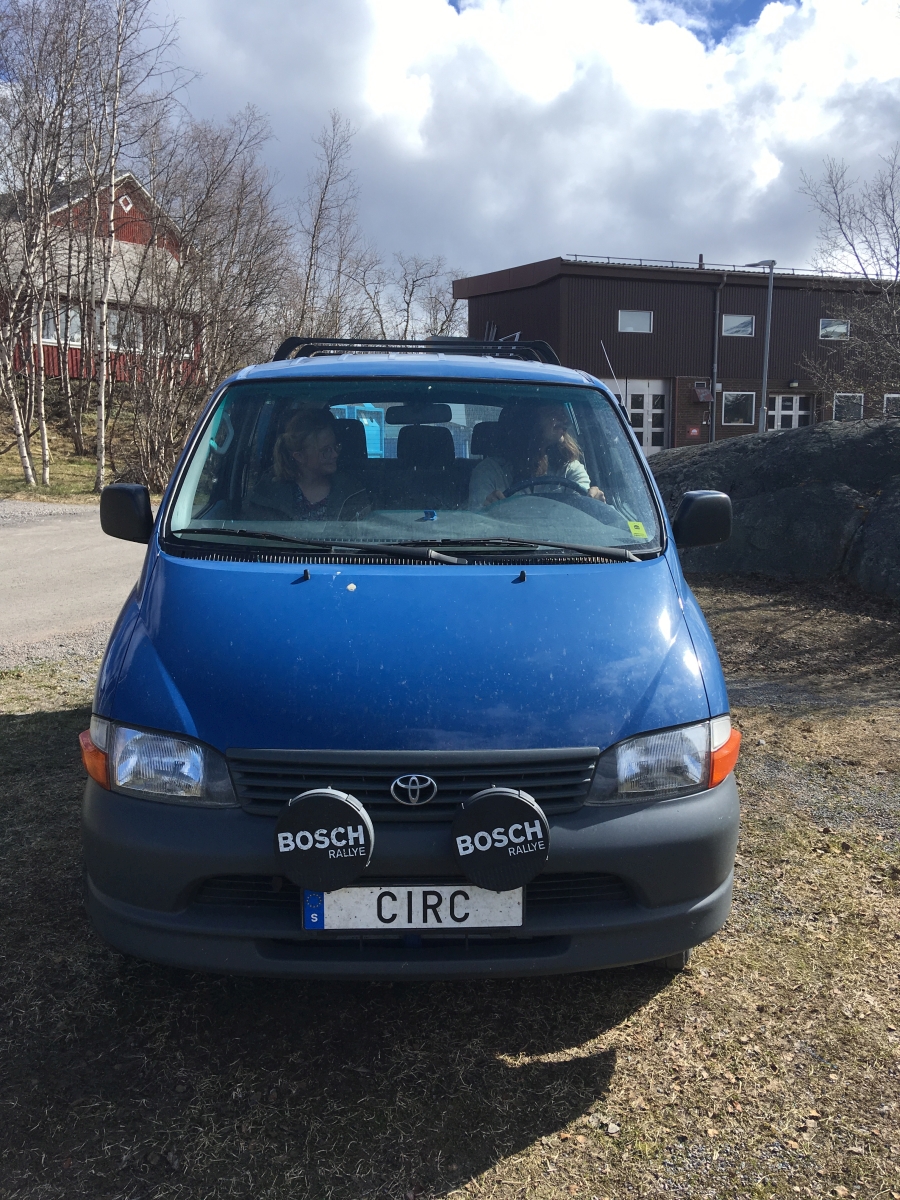 Description
We have a Toyota mini-bus is a 4wd, manual transmission, bensin (not diesel), seating for eight people. In the bus you will find a safety box with high-visibility vests, first aid kit, battery jumper cables and other items to help you if you have a breakdown. In the winter there is additionally wool blankets and a shovel. Please do not remove emergency kit from the vehicle. If you use something please notify Keith Larson immediately so it can be replaced. From October to May we have studded winter tires on the vehicle.
General rules and guidelines
The bus is for official activities related to research, education and outreach only. It is not allowed for personal use.

You must book the bus on the CIRC shared Google calendar. If you do not have access to the calendar, contact Keith Larson to get access (you must have a gmail address to gain access). When you book the bus on the calendar, the entry should look something like: "Bus: Miellejokk (Reiner)" or "Bus: Katterjokk (Janne)". If you are only using it for a short time, please put the time you plan to leave and return in your calendar entry.

The bus is prioritized for course activities, such as excursions.

There is a fuel card in the dash. It only works at Qstar/Bilisten. When you use the bus you must fill it up before you return to the station if it has less than a half tank – no exceptions. The station is self-service and open 24 hours a day.

You must use the log book in the CIRC bus to record your use. This includes drivers name, project destination, start and ending kilometers.

If you need a vehicle for regular and extensive use for a particular project, you should consider either renting a car or booking a car at the Abisko Scientific Research Station.

Each PI should have a personal Qstar credit card to cover their fuel costs for projects that require extensive use of a vehicle. Talk to Cecilia Vallin to obtain a card.

Be open to sharing a ride with other researchers and students to reduce fuel consumption and unnecessary trips. If you need a ride and the vehicle is booked going in a relevant direct of travel, contact the person and ask for a ride.

All passengers must always wear a seat belt at all times.

If a warning light or repair needs to be done, please contact Keith Larson immediately at 0730465016. If the engine warning light comes on please stop immediately in a safe location (not on the highway).
The Abisko Scientific Research Station has two Skoda combi and one Renault mini-bus. These are available to all researchers and students for activities related to official research, education and outreach activities. The price per kilometre is SEK 3 (including fuel), plus a daily fee of SEK 100. See the Terms & Conditions on the stations page at Interact-GIS.org.
Finally, there are researchers and students at the station without a vehicle. They occasionally need to go to Kiruna to go shopping, purchase equipment or get picked-up or dropped-off at the airport. If you are going from Abisko to Kiruna with the CIRC bus, please let Keith Larson know so that I can check with our group here in Abisko to get a ride or help picking something or someone up or off.
CIRC Bus Google Calendar (view only)